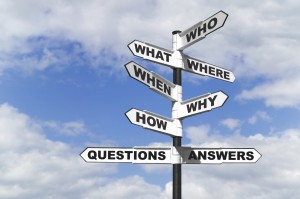 Organizations are defined by change.
---
Our community's existence is inspired by the desire to transform and improve society. This constant drive for change carries inevitable uncertainty and risk. In fact, funders, stakeholders, government bodies and our broader society are increasingly questioning the effectiveness of Non Governmental Organizations (NGO's) and demanding more accountability and justification. The volatile, dynamic and unpredictable environment in which the contemporary NGO must operate makes assessment and risk management an increasingly imperative tool, if they are to maximize opportunities and minimize barriers to success.
Overview of Organizational Assessment
---
Before we helped Autism Society Canada (ASC) reinvent itself, we assessed all aspects of the organization to rediscover why it existed, what it was doing well and how to go forward:
History: What prompted it to start in the first place?
Nature of the Organization: What type of organization is ASC and who are its members?
Mission and Vision of Organization: What does it actually seek to achieve?
ASC's Goals and Objectives: What exactly does it accomplish?
Environment Scan: What else is happening on the national and regional landscape for people affected by Autism?
Human Resources: What does ASC have and need in the way of staff and volunteers?
Marketing and Fundraising: What is the best way for ASC to promote its cause and raise money?
We also conducted a SWOT analysis (strengths, weaknesses, opportunities, threats) of ASC.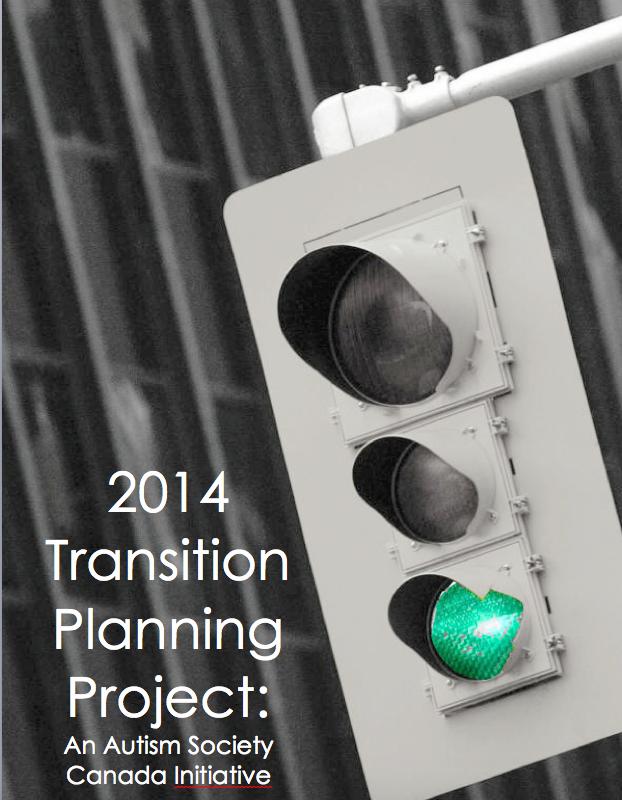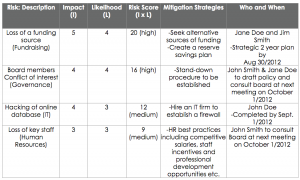 Risk Management
---
Risk arises when vulnerability exists within an organization's operation in the absence of effective controls and countermeasures (i.e. a lack of risk management). AAISA needed help managing its risks, so we developed mechanisms to identify, communicate and mitigate them.
Performed risk assessment to identify, analyze and evaluate AAISA's level of risk in conjunction with its member agencies
Developed a risk management framework and strategy in line with recognized best practices and standards for AAISA and for its member agencies
Created a strategy that integrates risk management into AAISA organizational goals.
Formulated risk mitigation strategies for AAISA and its member agencies
Established, communicated and encouraged the use of relevant RM procedures
Introduced risk reporting to the AAISA Board and senior management.
Client Needs
---
Before Norfolk Housing could settle on its future direction, it needed to be very clear about who it was helping and why. We ran a workshop with the Board of Directors focused on three key target groups, who we named Rosie (vulnerable seniors), David (low-income single males) and The Spencers (single-parent families with high risks.)
We also looked at the homelessness environment, client demographics, and other statistics. More importantly, we helped the organization get to know the real people it was serving, and how Norfolk could best help them.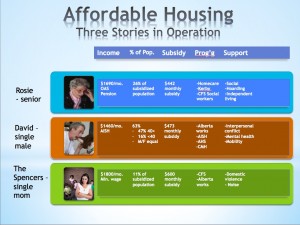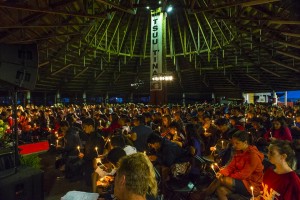 Reaching the people who count.
---
Marketing is a new world for many nonprofits. Today, marketing must be understood not in the old sense of making a sale or obtaining a donation, but in the new sense of satisfying client and donor needs. Marketing doesn't have to be confusing or complex. In fact, it can be very creative and fun.
Marketing is necessary to help nonprofits promote their values, accomplish their missions, and develop increased resources to address a wide range of compelling concerns. Your marketing message should reflect the heart and soul of your work.
Fundraising
---
One Rock is a weekend youth outreach. Organizers tried year-after-year on their own to raise the funds needed to stage a high-quality event. After struggling for a long time, they turned to Capacity Builders.
We helped them define and carry out a strategy that identified and developed trusting relationships with key partners, including major donors, foundations and corporations. In a way, fundraising for One Rock was more about 'friendraising'. Our methods succeeded and have been used effectively ever since.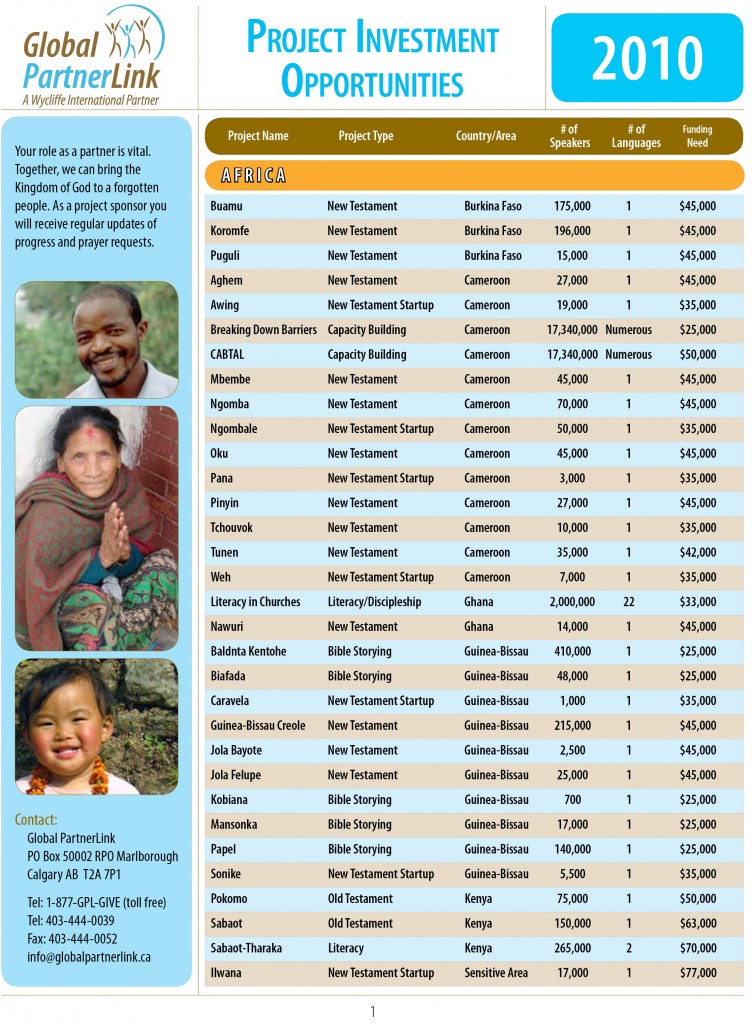 Marketing and Brand Identity
---
We marketed Global PartnerLink (GPL) through its projects, which are very compelling when presented in a story format. We positioned GPL it as the 'go-to' organization of its kind:
Defined Global PartnerLink's unique niche in the marketplace and ensured that it possessed the right services to meet the needs of its donors and consumers;
Reached the audiences it wanted with a message that motivated its constituents to respond;
Focused on goals, and then strategies to help it become a more prosperous organization with increased resources to carry out its mission;
Helped it stand out from the crowd and attract the kind of attention, support and enthusiasm it needed and deserved;
Gave it greater impact and agenda in its community and beyond.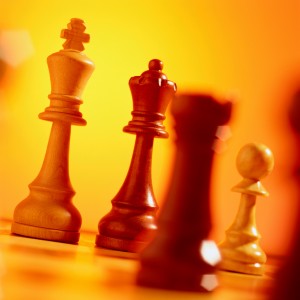 Know where you're going
---
To be successful, a Strategic Plan requires its own process and enhances buy-in from all stakeholders. It helps greatly to settle from the beginning which stakeholders must be consulted during that process. When handled properly, it is pieced together one stage at a time, based on the findings at each stage using the wide forms of assessment explained above.
Above all, it's about making strategic, feasible decisions that will fulfill the mandate of the organization.
Strategy Maps
---
Alberta Association of Immigrant Serving Agencies (AAISA) states that its mission is to "provide an association by and through which the members can work towards addressing the needs of immigrants, the agencies that serve them, and the larger community, which welcomes them." We helped AAISA by unpacking that bold statement into its various perspectives and breaking down the steps needed to achieve it:
Client (who it serves and what it accomplishes for them)
Financial (how it raises and uses funds)
Internal Processes (the management of its clients and operations), and
Learning and Growth (the resources needed to fulfill these processes, such as its people, hardware, software and organizational culture.)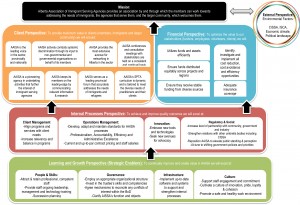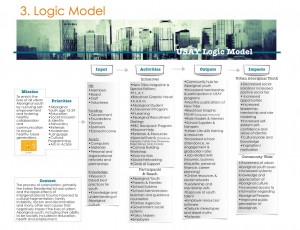 Comprehensive Planning
---
The Urban Society of Aboriginal Youth (USAY's) goal is to increase the social inclusion of Aboriginal youth in the City of Calgary and to contribute to building a stronger sense of community among all peoples by strengthening USAY's organizational capacity, youth leadership and sustainability. That's a tall order.
We helped USAY's leadership and staff turn that into a reality by sorting out what exactly it needed in the way of Inputs (resources), Outputs (activities and participation), Outcomes (short, medium and long-term results) – internally and with its partners.
USAY is a small, vulnerable organization. It couldn't do all of this on its own. We helped the staff figure out who needed to be involved at every stage of development and implementation of its initiatives.
There are five key action stages in this model:
Define Vision and Scope
Build Partnerships
Blueprint the Future
Implement
Learning and Improvement.
This gives USAY and its partners a clear idea of who needs to be involved at every stage to make and carry out its key decisions.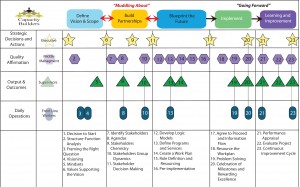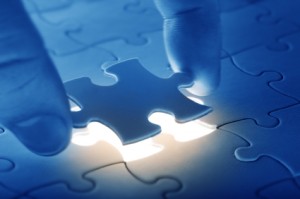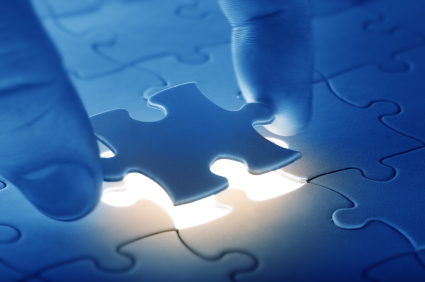 Make things happen.
---
You can have the greatest Strategic Plan and Project Roadmap in the world. But if you don't have a very good idea of the actions involved, your organization will not be very effective. It all comes down to how the organization carries out its activities, and being clear on what everyone does. That means developing focused programs and services. This is where Capacity Builders really shines. We have developed many innovative programs that fulfill the mandate of organizations with significant missions in ways that go beyond their dreams. The process of defining programs and services is like a puzzle with many pieces: relationships, personnel, best practices, information technology, support services and funding.
Food N More
---
Our community's issues and social concerns seem to grow every year. It's very difficult for community organizations to address daunting tasks on their own. There is all the more need for us to come together with common purpose and a strategic approach. What could be more important than to work together to address hunger? Food n More is a social enterprise to bulk-buy food for the community. It leverages efforts of social agencies, community groups, food suppliers, funders and corporations. We created a collaborative approach to "Food": purchasing and distributing food for dozens of community groups and agencies, and "More": wraparound services for the needy, including those struggling with homelessness, addictions, mental health or poverty.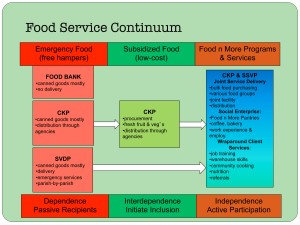 Working Smarter Volunteer Guide
---
Volunteer Canada's 2010 report tells us that "effective volunteer engagment is a fundamental lynchpin of the voluntary sector".
By and large, volunteer organizations are using outdated models of volunteer management and frontline service. They still engage most of their volunteers in menial tasks such as carrying, storing and loading groceries.
On behalf of 25 organizations with a total of over 1,000 volunteers, we developed a complete training package. We equipped volunteers for three roles: intake worker, case manager and companion.
The program toolkit uses a train-the-trainer model, including:
A guide for trainers that instructs them on how to organize and hold a workshop for volunteers.
Three volunteer guides for the three interconnecting volunteer roles: Intake, Case Management and Companion.

Three guides for trainers, which include the volunteer guides with extra notes, PowerPoints, case studies and detailed content for each volunteer role.
Moving Forward Warehouse Training
---
Moving Forward Mental Health is a collaborative project of Potential Place, Calgary Dream Centre and Community Kitchen Program, that provides Essential Skills training and job opportunities in the warehouse industries for AISH clients struggling with mental health issues, and helps them return to the workforce.
We developed The Training Toolkit. It covers all of the program components;
Essential Skills: skills assessment, essential skill development, and occupational matching.
Employment development: work ethic, teamwork, communication and time management.A
Addictions: drug and alcohol recovery, AA, and accountability.
Life management: life goals, small group, social skills.
Warehouse facilities: hands-on experience in a fully operational 50,000 sq. ft. facility.
Equipment training: forklift, reach truck, Zamboni, shipping and receiving and safety.
Technical training: shipping & receiving, scheduling, motor vehicle recording, inventory control.
Transitions: linkage, work experience, placement, monitoring and ongoing support.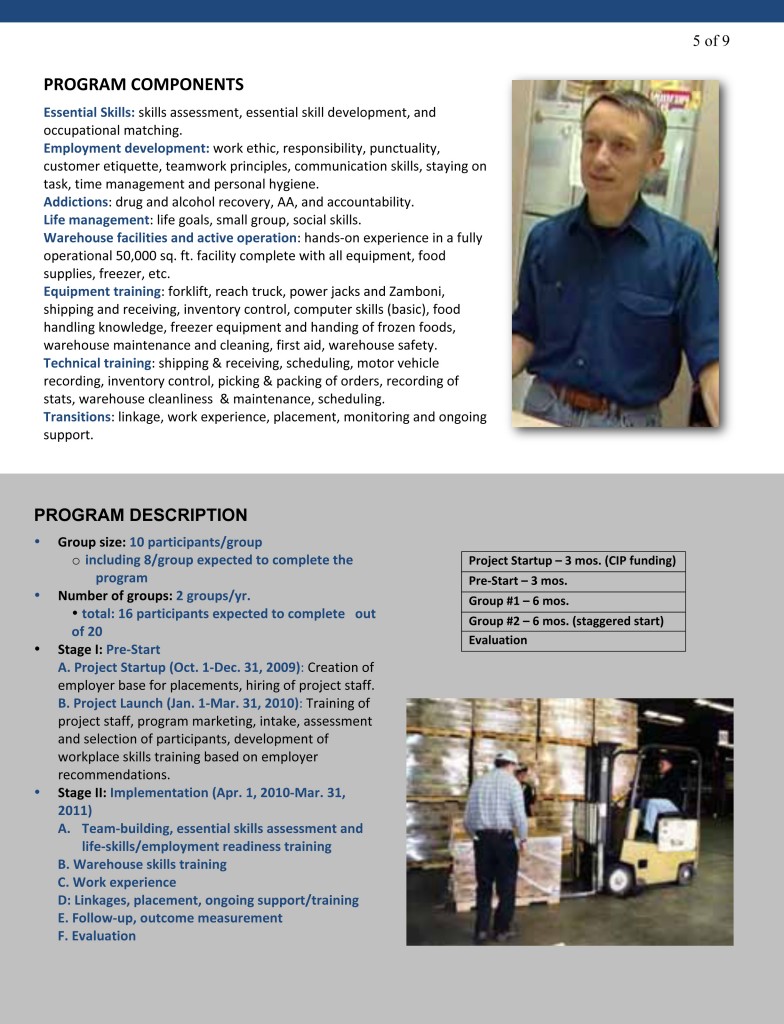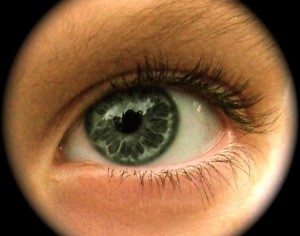 What really works.
---
In 1995, John Kotter discovered that only 30 percent of change programs are successful. The odds can be greatly improved by a number of counter-intuitive insights that take into account the irrational but predictable nature of how employees interpret their environment and choose to act. Capacity building, at its core, is about enabling people to discover for themselves what they really want to do, and then giving them the path and tools to achieve the change they want to make.
Project Management
---
Once Global PartnerLink (GPL) set its direction, it needed a path to coordinate its staff efforts. That meant creating a detailed project management plan. In so doing, we helped this high-energy organization to maximize its efforts. Project management gives a plan for action. It ensures that everyone involved knows what is expected of them and helps to keep cost, time and risk under control. We put in place a matrix where lines of accountability were short and the responsibilities of individuals were clearly defined. The organization's processes were clearly documented and repeatable, so that those involved in each project could learn from the experiences of others.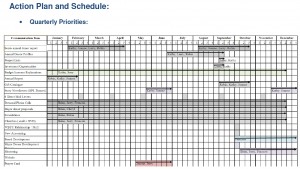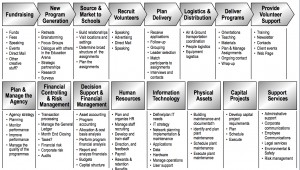 Program Planning
---
Many of our clients have great ideas and processes but are unsure how to pull them all together. Often, we help them determine who will own, oversee and deliver the various processes. This is particularly true for collaborative efforts. While one organization may have a handle on how to deliver on promises, often a community with many diverse organizations does not. It is very helpful to analyze all of the required inputs and put them in working order.
Coaching and Mentoring
---
In Cameroon, Africa, we discovered that our client organization had many talented leaders and managers. However, their people were not plugged into and carrying out their responsibilities effectively. More than anything, they needed someone with executive experience who they could trust to come alongside them, model behaviors and encourage them to step up to the challenges they faced every day.
Using our book, The Nurturing Leader, A Toolkit for Every Season of Organizational Change, we were able to mentor and coach them. We developed leaders at all levels of the organization. We pointed them in the right direction, showed them how to go forward, and brought them closer to their goals, ultimately fulfilling their mission.